Well, I put this one off for a while.
Singer: Zack Underwood (Voiced by Mekai Curtis), Milo Murphy (Voiced by "Weird Al" Yankovic) Just Getting Started... before they started. (Sounds like a novel about the band.)
Catchiness: 6/10
Humorous Lyrics: I really didn't find any that entertaining.
Context:
"School Dance": Milo and Zack sing it at the Niagara Falls Fling, with bass from Melissa and drums from Mort.
"Disaster of My Dreams": Just Getting Started plays it while Elliot chases a perfectly round boulder.
Overall Rating: 10/10 
It perfectly sums up the message of the series, like "
Carpe Diem
" and "
Summer Belongs to You
" in PnF.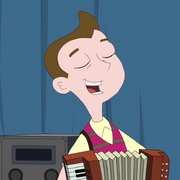 Next: Just Getting Started just gets started.
Community content is available under
CC-BY-SA
unless otherwise noted.