Jurassic World: Dominion Dominates Fandom Wikis - The Loop
Play Sound
Ye Olde Pizza is a local pizza restaurant with a British renaissance theme. Orders are guaranteed to arrive within one one-thousandth of a fortnight, which means 20 minutes and 9.6 seconds. Milo's last babysitter - Veronica - currently works there. As a pizza squire, she takes online orders and then delivers them.
The restaurant has its own jingle, which can be heard alongside the video when visiting the website.
Uniforms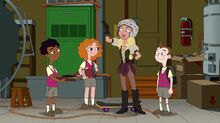 Keeping with the theme of the restaurant, the employees are dressed in outfits matching the era.
As a pizza squire, Veronica's uniform includes heavy boots, gloves, and a large metal helmet with a feather on top.
Delivery Vehicles
The pizza place has its meals delivered by vehicle. While Veronica has only been seen delivering by scooter, a delivery van has made a cameo.
Veronica's Scooter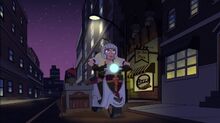 The delivery scooter Veronica drives is white, with a single headlight on the front. A pizza logo sits on a decorative shield, while a helmet-like decoration rests above the wheel, complete with a red feather and a visor. The scooter has an elegant chair with another downward facing pizza slice on the back. The pizza is transported within a sidecar that is reminiscent of a stone castle. The castle has a small drawbridge serving as a door.
Delivery Truck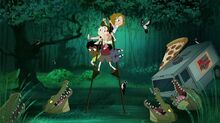 The Ye Olde Pizza delivery truck is a plain van with the restaurant's logo across the side. There is a huge slice of pepperoni pizza advertised on a spring on the top of the van.
The van was only seen in a single image without context, apparently crashed part way into a swamp.
History
The restaurant is introduced in the episode "Secrets and Pies", when Milo and his friends decide to order pizza. They order their pizza online, only for Milo to discover that his last babysitter works there. She delivers the pizza in spite of Murphy's Law and rides away on an ostrich after her scooter gets destroyed.
At the end of "The Llama Incident", a Ye Olde Pizza delivery van can be seen in the swamp during the woodpecker montage.
At the beginning of "The Island of Lost Dakotas", Cavendish and Dakota discuss potential places to eat, with Cavendish complaining that they had just eaten at Ye Olde Pizza.
Gallery
Quotes
"Luckily there's a place nearby. "Ye Olde Pizza". How does British pizza sound?"
"A little standoffish but lovable?"
—Zack Underwood and Melissa Chase
"Ye Olde Pizza, when you're tired of bangers and mash! But we got that too! Guaranteed delivery in one one-thousandth of a fortnight."
—Ye Olde Pizza theme
"Oh, come on. We had Ye Olde Pizza last week!"
"What? That was like seventy-two hours ago. It's not still in my stomach."
—Balthazar Cavendish and Vinnie Dakota
Appearances
Trivia
In addition to pizza, they also serve Bangers and Mash (Sausage and Mashed Potatoes).